Department of Nuclear medicine at Thangam Hospital is equipped with Positron emission tomography-computed tomography (PET-CT) which aids in oncologic imaging by identifying the tumour site, its spread, progression and recurrence on imaging.
18 FDG PET scan is done daily.
PSMA PET scan is a special scan done for Prostate cancer.
All the PET scans can be done only after a prior appointment.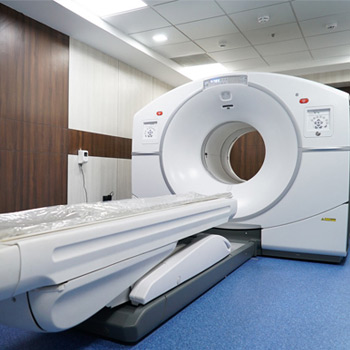 Positron Emission Tomography – Computed Tomography (PETCT) scan is done by injecting radioactive drugs which accumulates in specific sites. This reveals the biochemical or metabolical function of the tissues and this information is used for diagnosis.
In cancer patients, 18-Fluro-Deoxy-Glucose, a radioactive glucose in injected into the patient which accumulates in cancer tissues which 'light-up' in the scan. This information helps in diagnosing and staging the cancer and for assessing the treatment response.
It is also used in non-cancerous diseases.
Brain – to check certain brain disorders, such as tumors, Alzheimer's disease and seizures.
Heart – To analyze the functional capacity of the heart
Infections – To find the source of infection in cases of sepsis.
In a PSMA PET-CT, the tracer used for the PET scan includes a molecule that specifically binds to the PSMA protein, which is often found in large amounts on prostate cancer cells. That molecule is linked to a radioactive compound, or radioisotope.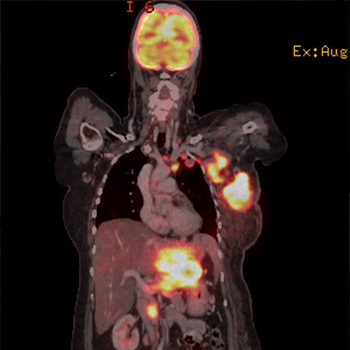 NULCEAR MEDICINE - +91 98436 10685