Thangam laboratory provides world care diagnostic services in Namakkal Thangam hospital.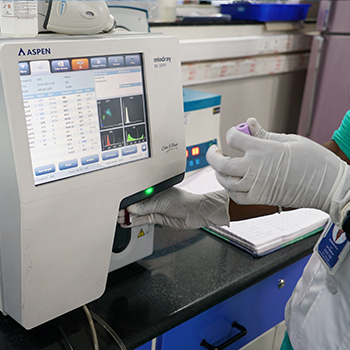 Hematology is study of disease of blood and blood components. It deals with anemia, bleeding disorders and also blood cancers like leukemia, myelomas and lymphomas. In Thangam hospital we deal with many blood cancers and we have successfully completed numerous bone marrow transplants.
We have the latest technology of 3 laser 13 color flowcytometry for diagnosis of blood cancers and their various subtypes. For accurately diagnosing causes of anemia we have an array of tests which are run on world class technology. Numerous coagulopathies and hemoglobinopathies are also worked up.
ROCHE- COBAS c 311 analyzer for clinical chemistry
The cobas c 311 analyzer is a stand alone system that offers consolidated testing from a broad menu of clinical chemistry applications. This analyzer has the capacity for ion-selective electrode (ISE) determination of sodium, potassium, and chloride in serum, plasma, and urine. In addition, measurement of HbA1c levels in whole blood can also be performed, making it a truly flexible analyzer. The type of specimen to be used includes serum, urine, cerebrospinal fluid, hemolysate, whole blood and plasma that are used for detecting and/or measuring analytes covered by the specific assays.
Performance
Over 130 assays and applications available, including Drug of Abuse Testing (DAT),Therapeutic Drug Monitoring (TDM), specific proteins and whole blood HbA1c1.
Predictable turnaround time
Intelligent sample workflow  
108 sample positions with continuous random access and flexible STAT priority
settings
Automatic determination of sample integrity
Automatic sample dilution and rerun capabilities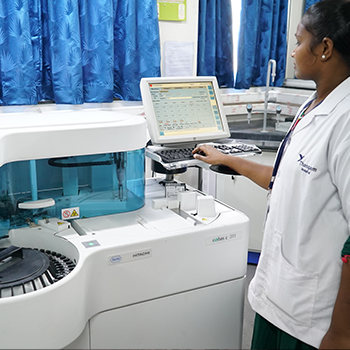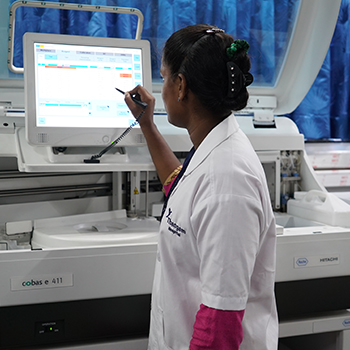 ROCHE- cobas e 411 analyzer for immunoassay tests
The cobas e 411 analyzer is a fully automated analyzer that uses a patented ElectroChemiLuminescence (ECL) technology for immunoassay analysis. It is designed for both quantitative and qualitative in vitro assay determinations for a broad range of applications (including anemia; bone, cardiac and tumor markers; critical care; fertility/hormones; maternal care; and infectious diseases). The analyzer is available as a rack or disk sample handling system.
First class performance, High sensitivity, reliability, and reproducibility of results due to ECL technology.
More than 100 assays available
Up to 18 assays can be run at a throughput of up to 86 tests/h2
9 min STAT applications for emergency sample assays (incl. high-sensitive
Troponin T, Creatine-Kinase MB, Myoglobin, Parathyroid Hormone (PTH), and human Chorionic Gonadotropin (hCG).
Unique reagent concept
Convenient and error-free handling of cobas e packs
Economic usage with high stabilities and convenient kit sizes
Leica CM1520 – INTRAOPERATIVE CONSULTATION.
The Leica CM1520 cryostat provides excellent attractive option for applications such intraoperative tumour margins, sentinel nodes and primary diagnosis. In practical histopathology routine it take 48 hours for a tissue to be made into slides to be viewed and diagnosed, but using Leica CM 1520 we can get an intraoperative consultation in 20 minutes and a diagnosis can be arrived and decision can be taken on table itself.
Leica manual and semiautomatic microtome.
Leica RM 2125 is manual rotary microtome which can take secions as thin as 4 or 3 micron.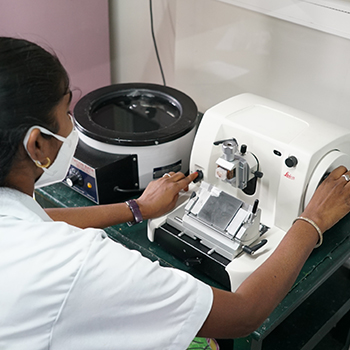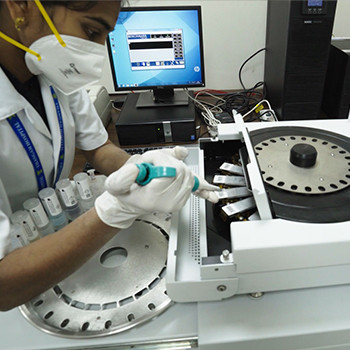 Automated Immunohistochemistry Roche ventana platform
The BenchMark GX Advanced Staining System is intended to automatically stain histological or cytological specimens on microscope slides with specific immunohistochemistry or in situ hybridization reagents for in vitro diagnostic use. Evolved from the BenchMark series of instruments, the BenchMark GX instrument fully automates the processes of baking, deparaffinization, and staining.
Thangam lab has got world class clinical flowcytometry machine in Beckmann coulter. The advanced  sensitivity  and intuitive software DxFLEX makes flow cytometry routine for both  novice  and  expert  flow cytometry technicians and promotes  standardization . Functionality in the autoloader facilitates accurate results and sample tracking. This is most advance 3 laser 13 color machine used to diagnose all liquid hematology diseases.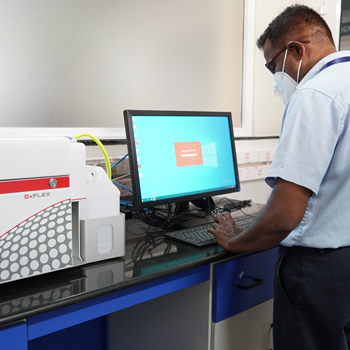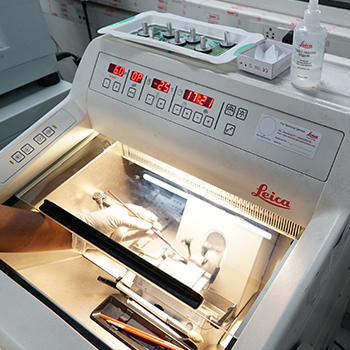 It is a pathological procedure to give rapid microscopic diagnosis on a tissue specimen. The whole procedure takes 20 minutes from receiving the tissue specimen in the lab to giving a quick microscopic diagnosis.
Generally post surgery a tissue or specimen taken from the body needs to be processed for 24 hours using multiple chemical reagents. The processing includes minimum 8 hour fixation from 10% neutral buffered formalin and series of reagent including Formalin, Alcohol and xylene Post the processing the tissue is embedded in the paraffin blocks and sections are taken using microtome. Further the tissue sections are stained using haematoxylin and eosin stain. This entire process takes 24 hours. The intraoperative frozen gives a shortcut to this meticulous procedure.
In intraoperative frozen The tissue is freezed.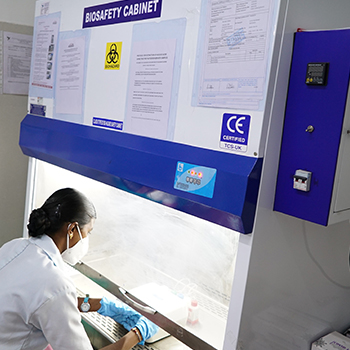 We have closed system RT PCR for various infectious diseases and molecular sub typing of the cancer.
THANGAM LABORATORY – +91 73730 50685