Department of Radiology at Thangam Hospital comprises of imaging modalities necessary for oncologic imaging, accidents and trauma imaging and antenatal imaging.
The department is equipped with Computed Tomography (CT), Breast tomosynthesis (3D mammography), ultrasonography (USG), colour doppler imaging, echocardiography (ECHO), Hysterosalpingography (HSG) and digital radiography (X-RAY).
Facilities are available round the clock.
All modalities are connected by PACS and integrated to HMS.
USG and CT guided procedures such as FNAC, biopsy and drainage are being performed by experienced professionals.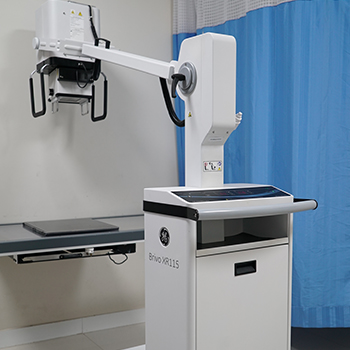 X-ray is most common used investigations. It is quick, simple and painless and uses X-ray generating machine to visualize structures inside the body mostly bones. It can give many information depending on the area of interest.
It is used in identifying
Fractures
Lung infection
Bone and lung Cancers
Bowel Perforation
Osteoporosis
Foreign items
It is a simple test showing a 2-Dimensional image. For more complete 3-Dimensional picture, the clinical physician may advise other scanning procedures like USG, CT, MRI or PETCT.
Ultra-Sono graphy uses sound waves like sonar to provide images of structures within the body. These ultrasound machine images provide valuable information for a variety of conditions. It is also used for some interventional procedures.
The following services are provided:
DIAGNOSTIC-
Ultrasound Imaging studies for different parts of body
Doppler imaging studies to find the flow of blood vessels
ECHO Cardiogram to analyze the anatomy and function of the heart and its conditions
Antenatal imaging studies for all pregnancy related scans to be done for mothers and Fetal health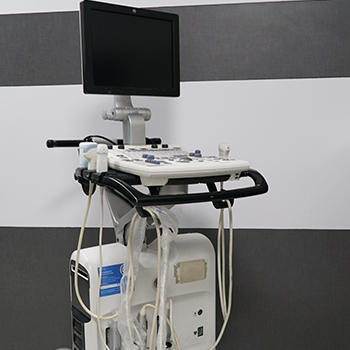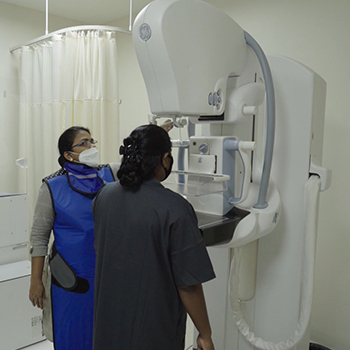 Mammography uses low-dose x-rays to provide image of the breast tissue. This is used in the investigations of breast mass or lesions.
Mammography is done by compressing the breasts of the patient between two firm surfaces and images are taken. Information from these images helps doctors to identify the presence and location of benign or cancerous lesions.
Unlike 2D mammography which provides minimal information, GE's Senographe essential mammography system which is known for its low dose exposure, excellent advanced large digital detector provides a 3 dimensional picture by Tomo-breast synthesis which aids in better resolution and detection of smaller lesions by ruling out overlapping structures.
3D Mammography also helps the Radiologist in identifying and targeting small breast lesions for biopsy.
Computed Tomography uses X-rays to produce 3D images of the structures inside the body. At our center we have a 32-Slice, CT that can take a whole body scan in seconds.
To better understand the images and differentiate different structures of the body, Oral or IV contrast is sometimes injected into the patient. This gives better information for diagnosing the diseases.
For Cancer management CT scan is a valuable tool to identify the stage and operability of the disease.
In case of Stroke/ Road Traffic Accidents, CT scan is done to identify any problems in the brain to provide fast treatment.
CT Guided Biopsy is done for difficult to acquire lesions of the lung or liver. CT can accurately help in positioning the tumour for safe and precise biopsy.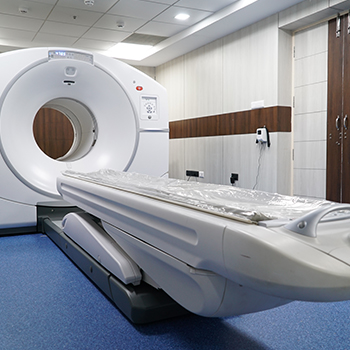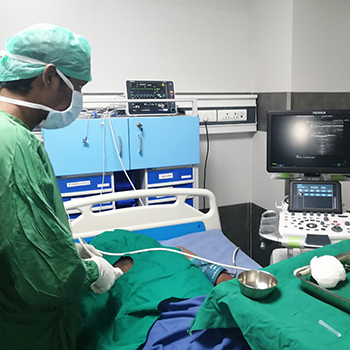 THERAPEUTIC- (Image Guided Biopsy Suite)
USG guided FNAC and Biopsy used to accurately take tissue samples from lesions that are difficult to localize normally
USG guided aspiration from abnormal collections and abscesses from difficult to access locations in the body
Ultrasound is completely safe with no side-effects. It is with limitations and the Radiologist may recommend for other modality of investigations like CT, MRI, or PETCT.
RADIO – DIAGNOSIS : +91 98436 10685