We are one of top Tertiary Care Centers in South India, encompassing a wide variety of specialists in the fields of Oncology, Thoracic Surgery, Gynecological Surgery, GI Surgery, Urology and Head & Neck Surgery. Our institution is one of the leaders in Robotic Lung and Esophageal Surgeries in the country. Our motto is "Personalized & affordable" and offer a wide range of services to our patients.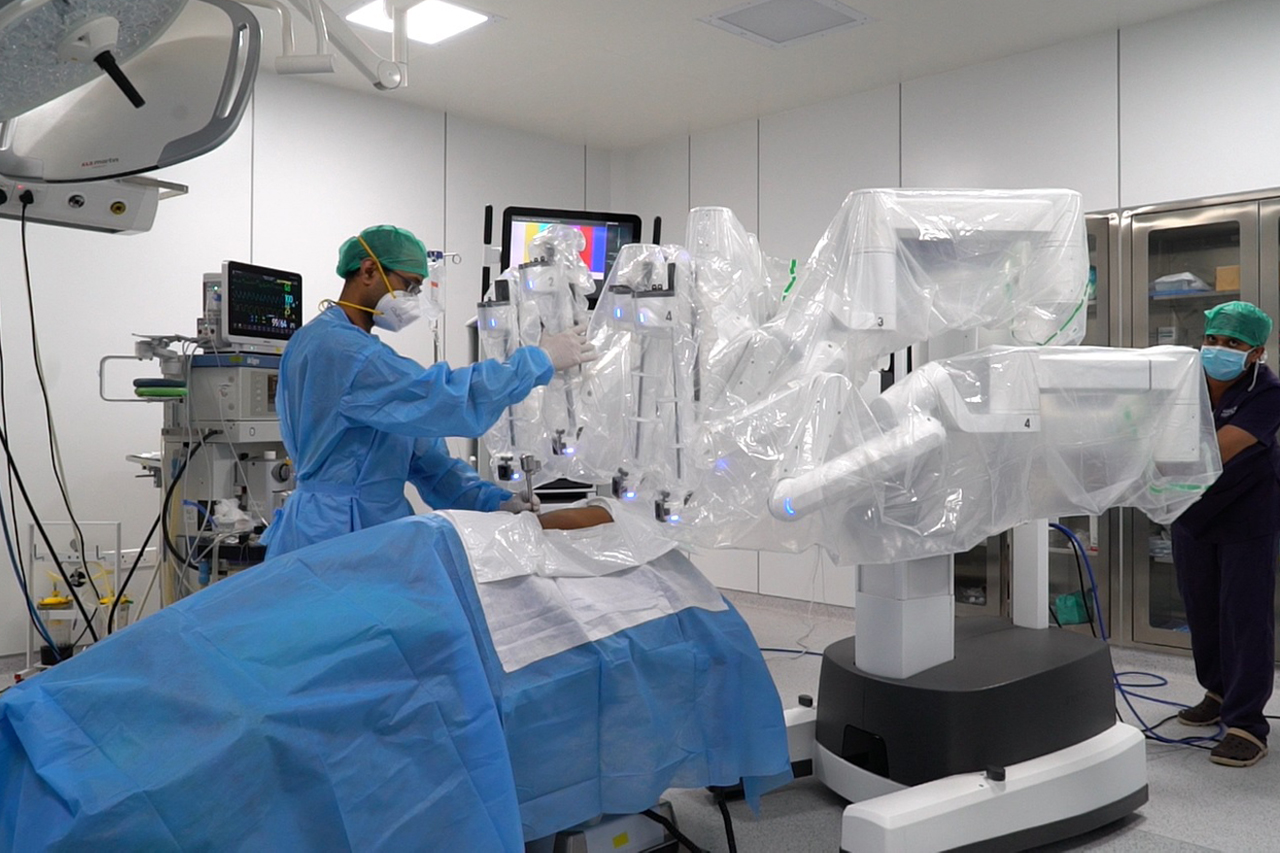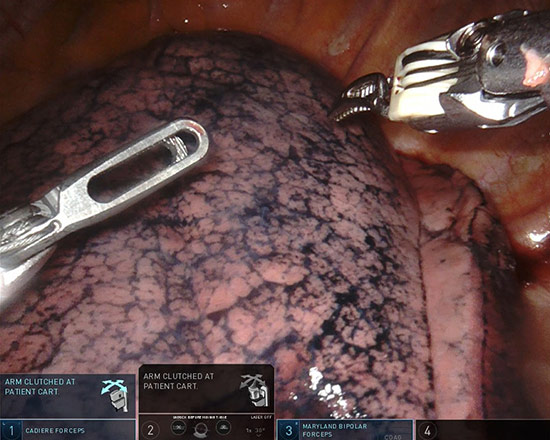 The Thangam Thoracic Oncology team is one of the few dedicated group of specialists who focus primarily in the management of lung Cancer. The Multidisciplinary team includes Thoracic Surgical Oncologists, Medical Oncologists, Radiation Oncologists, Pathologists, Radiologists, Pulmonologists, Nuclear Medicine Physicians, Respiratory rehabilitation experts, Anesthesologists and Palliative care physicians all working with a string focus to improve the care of patients with lung cancers.
Our Department of Thoracic Surgical Oncology has one of the highest volume practice of lung cancer, mesotheliomas, thoracic NETs, thymic tumors, esophageal cancers and chest wall tumors in the country. Our hospital has the highest volume of Robotic Lung Cancer Surgery in India, treating patients from India and abroad.
Patients are managed by a team of Clinical Coordinators who help navigate the complex pathways that are sometimes needed in treating lung cancer.
The team has a clinical research pathway that is on the continuous mission of introducing new treatments and technologies into clinical practice.
Program Director:
Dr Saravana Rajamanickam (Thoracic Surgical Oncology)
Clinical Research Lead:
Dr Bhavesh Poladia (Thoracic Medical Oncology)
The Multidisciplinary Team:
Dr Karthick Rajamanickam (Thoracic Radiation Oncology)
Dr Shuba (Thoracic Pathology)
Dr Mahalakshmi (Thoracic Radiology)
Dr Umashankar (Interventional Pulmonology)
Dr Thangadurai (Intensive Care Specialist)
Dr Aravind Kumar (Anesthesiologist)
Dr Gurumoorthi (Anesthesiologist)
Dr Vishwanathan (Pain and Palliative Care Expert)
Dr Rajkumar (Respiratory Rehabilitation Expert)
Surgeries Offered:
Robotic Lung Lobectomy
Robotic Lung Segmentectomy
Robotic Lung Sleeve Lobectomy
Robotic Pneumonectomy
Robotic Thymectomy
Robotic Esophagectomy
Robotic Tracheal resections
Robotic Carinal resection
Chest wall Tumors
Robotic Lung Metastatectomy
Robotic Surgery for Mesothelioma (Pleurectomy / Decortication)
Video Assisted Thoracoscopic Surgery (VATS)
Video Mediastinoscopy
Vascular Sarcoma Resection
Pancoast Tumor Resection
Oncology Treatments Offered:
Targeted Therapy
Immunotherapy
Antibody Drug Conjugate Therapy (ADC)
Stem Cell Therapy
Cytotoxic Chemotherapy
Radiation Treatments Offered:
Image Guided Radiotherapy (IGRT)
Stereotactic Body Radiotherapy (SBRT)
Stereotactic Ablative Radiotherapy (SABR)
Intensity Modulated Radiotherapy (IMRT)
3D Conformal Radiotherapy (3DCRT)
Interventional Pulmonology Procedures Offered:
Endobronchial Ultrasound (EBUS) for staging
Tracheo-bronchial Debulking
Tracheal stenting
Pleural biopsies
Pleuroscopy
Pleurodesis
Pleural catheter placement for Malignant pleural effusion
Imaging and Radiology Services Offered:
Low Dose CT Screening for Lung Cancer
Contrast CT Scan for Staging
PETCT Scan for Staging
Diagnostic Biopsy Services
Ultrasound guided pleural procedures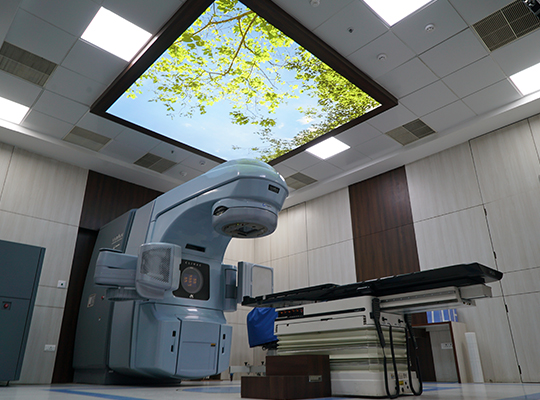 We at Thangam Cancer Center have experienced professionals in the field of Radiation Therapy to treat this advanced technique available only in a few centres across India.
This radiation treatment requires a merger of technology, the right equipment and expertise to achieve precision and outcome.
Selected cases who are in the final stages of disease can be treated with SRS/SBRT to increase long term outcome and good quality of life with minimal side effects.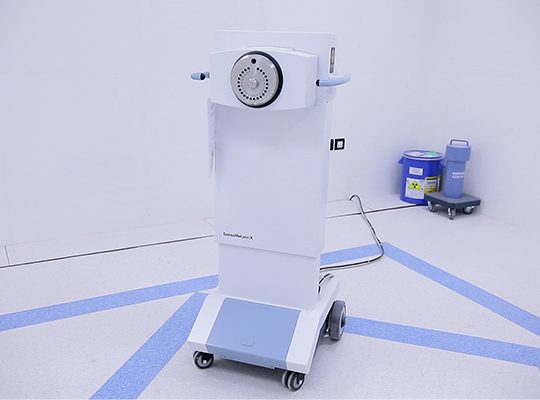 The oldest form of treatment with many advancements, this form of radiation therapy is not available in all centres. It requires experienced hands to provide best outcome with minimal side effects.
In our center, we have the latest technology able to treat 21 channels at the same time for large diseases in minimal time.
In selective cases of breast and sarcoma, time of radiation therapy can be reduced from 5 weeks to 5 days with the use of Brachytherapy.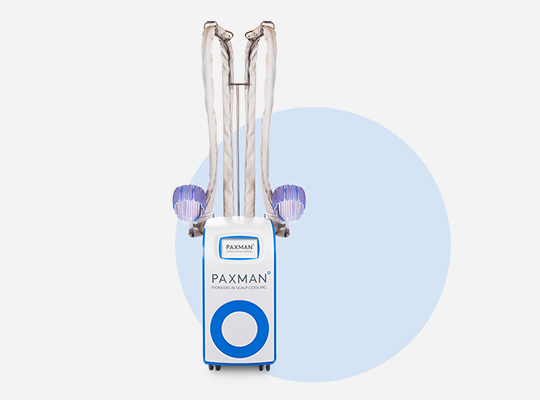 Advances in cancer care focuses not only on good results, but also on decreasing the side effects. Thangam Hospital and Thangam Cancer Center is the centre of excellence for cancer care. We resonate with the latest advances and make it possible at patient's door step.
Hair loss, which is one of the common side effects associated with cancer treatment is also one of the distressing symptoms both physically and emotionally. We understand this and are introducing scalp cooling system which has potential to prevent hair loss and help quicker regrowth of lost hair during cancer care, in up to 80% patients.
Our team is always working towards providing the best cancer care and scalp cooling system is here to improve patients experience during the difficult times of treatment.
Laboratory services play a crucial role in the disease diagnosis and treatment plan for cancer patients. As science evolves laboratory services has to be updated every year to meet the standard of care.
We at Thangam hospital strive to keep updated and upgrade our equipments to meet the current standards of good laboratory services.
Our laboratory is equipped with high end technology such as intraoperative cryostat, automated tissue processors, Tissue embedding, cutting microtome , immunoassays and automated Immunohistochemistry for solid tumors.
For blood cancers our flow cytometry lab is equipped with 3 laser 13 colour flow cytometry which is only available in select institutes across the country.
We also have a cryostorage lab for stem cells storage.
For cancer screening we provide a comprehensive health checkup services at an affordable cost.
We make it a priority to reduce all possible human errors to give most precise and accurate report.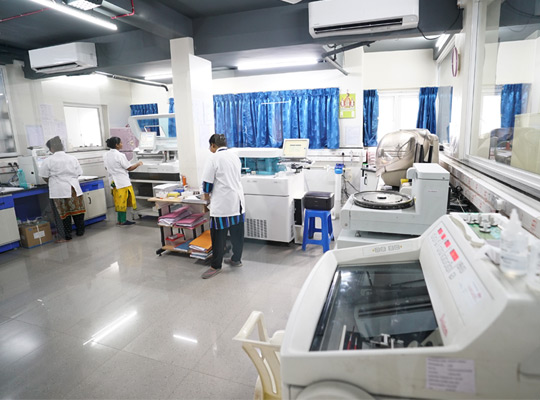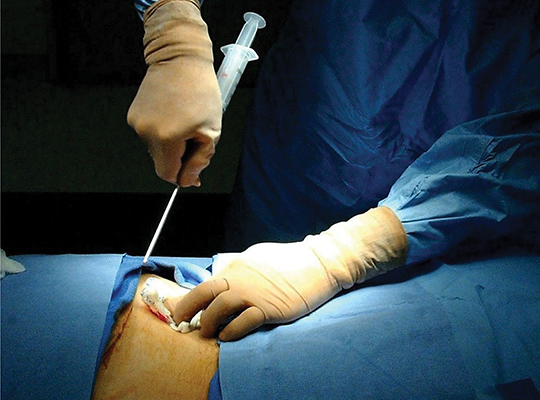 Bone marrow transplant revolutionized treatment outcomes forhematolymphoid malignancies, particularly leukaemia, relapsed lymphomas and myelomas, in the late part of the 20th century. To improve this successful procedure, 21 stcentury, brought about changes/guidelines to enhance the infrastructure reqiuired, reduce morbidity and mortality and increase accessibility.
As a part of this change, we at Thangam cancer center, have a developed stem cell unit, providing Clean rooms with hepafilter and individual air handling units; blood and stem cell collection and storage unit; a dedicated BMT team including doctors, nurses, counsellors, dietician and janitors trained from premier institutes of the country.
We also conduct education programs for doctors and nurses aspiring to train in this field which in turn increases the accessibility of this procedure to various parts of the country.
Peritoneal Surface Oncology Unit

Peritoneal surface oncology is an upcoming branch of oncology, which is gradually gaining popularity across various sub-specialties of oncology, as it caters to advanced stage and widespread cancers.
In Thangam hospital a fully equipped and dedicated peritoneal surface oncology unit was started in 2018. Any patient of gastric cancer, ovarian cancer, colo-rectal cancer, endometrial cancer, pancreatic cancer or small bowel cancer in advanced stage or patients with pseudomyxoma peritonei, malignant mesothelioma or primary peritoneal serous carcinoma, after a thorough clinical and radiological evaluation are discussed in multi-disciplinary tumor board to decide the best possible and evidence based treatment plan.
All forms of treatment needed for managing these advanced cancers are available at our center:
Cytoreductive surgery
HIPEC (Hyperthermic Intraperitoneal chemotherapy)
IP (Intraperitoneal chemotherapy) with IP port placement
BISIC (Bi-directional intraperitoneal and systemic induction chemotherapy)
PIPAC (Pressurized intraperitoneal aerosolized chemotherapy)
HITOC (Hyperthermic intrathoracic chemotherapy)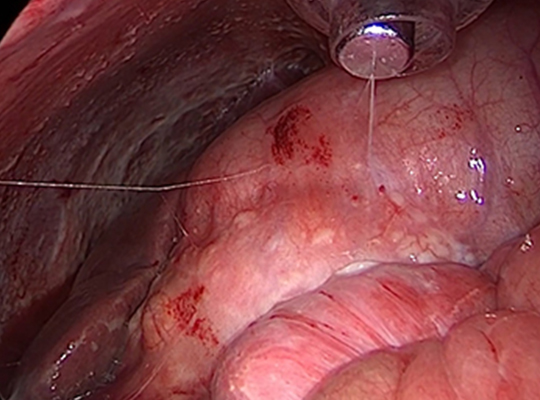 There is a dedicated team comprising of surgical oncologists, medical oncologists, radiation oncologist, anaesthetists, intensivist, paramedics, nursing staff, physiotherapists, dietician, pain care specialist to cater to all the aspects involved in the treatment of these patients. Our aim is to provide wholesome care including psychological counseling of patients and relatives, including providing financial help with the help of our hospital trust.
Data of all these patients is maintained in prospective manner to help in future research further aiming to improvise treatment of these advanced stage cancers. Also, the department of peritoneal surface oncology is running several clinical trials with ethics committee approval which are investigator initiated.
Breast - Conservation, Reconstruction
Plastic Surgery - Reconstruction, Lymphovascular anastomosis Microscope